History
Founded in 2001 in the historic town of Shrewsbury, we have brought the benefits of Chinese Medicine to the community in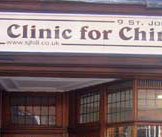 Shropshire and the surrounding areas. We aim to continue to provide outstanding practice of authentic traditional acupuncture treatments to our patients for many years to come.
What make us different?
We treat each patient individually:
The ancient acupuncture theory and its understanding of life as a whole, teach us that every human being has an innate ability to self-heal and return to full health. It's our responsibility to help our patients awaken this natural response to heal.

We treat people, not symptoms:


Symptoms are simply a welcome signal that we are being made aware that something is wrong. With our extensive experience and acknowledged experience, we will find the root cause and treat patient as a whole being via acupuncture and life style advice.
Our patients
Our patients are mainly from towns in Shropshire, mid-wales, west-midland, although we do have patients from London, Ireland, Spain, Germany, France and even as far as the United States.
Our Practitioners
Our principal practitioner, Dr. Zou, has been featured many times on local & national media due to her specialist technique in infertility treatment and strong link to Chinese culture.
Dr. Zou is the acupuncturist of Amanda, Lady Harlech
Our Services
We specialise in areas such as Infertility, Pain and Musculoskeletal disorders, Dermatology, Gynaecology, Addiction, Allergies and Cosmetic Acupuncture.  Please see our service page for more information.
(Visited 1 times, 1 visits today)