Acupuncture 'helped me conceive'    – by Owain Farrington ([email protected])
Click here for a scanned version of this article on County Times.
A WOMAN who gave birth despite unsuccessful in Vitro Fertilisation (IVF) treatment believes acupuncture may have helped her conceive.
Claire Owen, 31, from Newtown, suffered disappointment 18 months ago after being told her IVF treatment had failed.
But she and 35-year-old husband David have had plenty of reason to celebrate since, having welcomed their first child, Toby, into their arms last September.
And the couple who say they are "loving family life" think that acupuncture may have made the difference and have been back to see the woman who administrated it to thank her for making their dreams come true.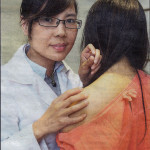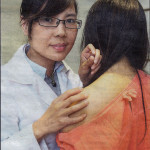 "I am supportive of IVF treatment but it just didn't work for me this time around", Mrs Owen said.
"We were just unlucky with it and I took the view that I would take acupuncture to help me prepare for more IVF"
Claire had a consultation with Dr. Daian Zou, an acupuncture specialist based in Shrewsbury, and after undergoing the ancient Chinese medical treatment, found out she was pregnant.
"I saw Dr. Zou for six to eight sessions before discovering that I was pregnant and I continued throughout the pregnancy", said Mrs. Owen.
"I have always been open minded to that sort of thing.
"I might have had some hormones left over from the IVF, we will never really know for sure, just that it worked,
"Dr. Zou was one of the first to find out I was pregnant and I have taken Toby over to see her and thank her and give her some flowers,
"It is worth giving anything a shot", she added.
Acupuncture involves the insertion of thin needles into the body at acupuncture points.
The practice can be associated with the application of heat, pressure, or laser light and is commonly used for pain relief, though it is also used for a wide range of other conditions.
Mrs Owen said: "I had Toby on September 22, 2015, and we had found out the IVF had not taken on September 18, 2014, so it was almost a year later.
"My chances of conceiving were very small.
"Now I look at Toby and I can't believe that five months has gone by it is unbelievable. I feel so lucky."
Dr Zou believes there is a place for both Chiense and Western medicine and confirmed that some of her patients combine treatment with their IVF programme.
She said: "Acupuncture combined with herbal medicine has been used for centuries to treat some causes of infertility.
"By strengthening the patient's health, it allows the inborn ability of conception to take place.
"In the female it can potentially improve ovarian and follicular function.
"It can also redress hormone imbalance which is believed to be the cause of infertility problems in Chinese medicine theory. "
(Visited 1 times, 1 visits today)