Blog
Chinese medicine articles
Browsing all articles in Chinese Medicine
BBC News 1 December, 1999
Acupuncture does have real health benefits, two separate studies have found.
German scientists tested the therapy by treating one group of patients with acupuncture and another with a fake procedure designed to simulate its feel.
Those patients who received the real therapy showed much bigger improvements in their health.
Read more »
BBC News 25 June, 2000,
Access to acupuncture for NHS patients should be widened, the British Medical Association (BMA) says.
The association is calling for nation-wide guidelines on use of the treatment following research which suggests it is successful in easing back and dental pain, migraine, nausea and vomiting.
Read more »
BBC News 18 November, 2001
Acupuncture can improve the prospects of people with severe heart failure, research has shown.
Researchers found the ancient Chinese practice has the potential to dramatically reduce the pressure on the heart.
This is because it can reduce activity in the sympathetic nervous system, which regulates involuntary movements such as heartbeat and blood pressure. Read more »
BBC News 19 October, 2001
Acupuncture reduces patients' vomiting and nausea after major breast surgery at least as effectively as conventional treatment, doctors have found.
Researchers at the Duke University Medical Center in North Carolina found the treatment also reduced post-operative pain.
As many as 70% of women who undergo major breast surgery suffer significant post-operative nausea and vomiting.
Read more »
BBC News 28 February, 2002
Acupuncture helps relieve morning sickness for pregnant women, a study shows.
It is hoped the findings will give wider recognition of the medical benefits of the ancient Chinese art.
The research follows a previous study which showed acupuncture's success in treating sickness in women recovering from breast surgery, including mastectomies. Read more »
BBC News 15 March, 2004
Acupuncture is used to treat pain.
Acupuncture is an effective treatment for chronic headaches and should be more widely available on the NHS, experts say.
Writing in the British Medical Journal, UK researchers said patients who were given acupuncture had fewer days of headaches than those who were not.
Read more »
BBC News 30 March, 2005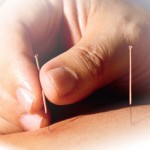 Acupuncture combined with electronic stimulation can lower high blood pressure, US researchers say.
In tests on rats, the treatment lowered raised blood pressure by as much as 50%, the University of California team at Irvine found.
They are now testing to see whether the technique will have the same effect in people with high blood pressure, also known as hypertension. Read more »
BBC News 26 June, 2000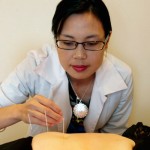 The British Medical Association (BMA) says acupuncture should be made more widely available on the NHS. BBC News Online looks at the treatment.
There are two key methods of acupuncture – traditional Chinese and Western or modern approaches.
Complementary medicines originated in China, and countries including Egypt, around 3,000 years ago.
The Chinese system was developed on the basis of very detailed knowledge of herbal remedies combined with acupuncture. Read more »
Search the site
Popular Pages
What Our Patients Say
~ Darrent – Shrewsbury

"My wife and I went to see a specialist at the hospital because we have been unsuccessful in trying for a baby and we found out the problem was with me. I had a sperm count of around 3 million sperm per milliliter of semen, when 20 million or more is considered a normal count. At the same time I was receiving treatment from Daian Zou for a knee injury that meant  I could barely run properly and I mentioned that we were having difficulty trying for a baby. Not only did Daian fix my knee so I can run for miles now, she prescribed a course of acupuncture, herbs and lifestyle advice  that produced amazing results. Soon after starting treatment my sperm count went up to 5 million and now its well over the required 20 million which is enough for conception. "